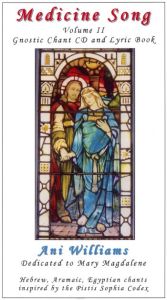 Medicine Song II (Rev 2005) Chant book and CD
Ancient Hebrew, Egyptian and Aramaic chants inspired by the Pistis Sophia Gnostic texts and dedicated to Sophia and Mary Magdalene's praise song. This album is an inspiring and important tool for transformation and healing.
This beautiful and powerful collection was completed just eleven days before the September 11 events. During the first three weeks of September, Ani was on tour with these chants, in peace concerts, on radio and television, encouraging people of all traditions to chant for the well-being of all people and the earth. This recording comes with an informative and illustrated booklet, and the transformative chants include harp, rich vocals, violin, viola, flute and middle-eastern percussion. "This is a timely and beautiful offering to help us all through this profound passage."
Short clips from each track:
01 Ruach Ha Koidesh
02 Eloha Elohim
03 Bath Kol
04 Bnai Elohim
05 Mariham
06 Zohar Hadash
07 Se Sekhem Sahu
08 Ari Rang
09 Kwan Yin
10 Sophia
Includes 2005 revised, expanded edition booklet for Medicine Song II!
This CD features harp, vocals, Egyptian flutes, violin and dunbec,
taking the listener on the path of Sophia-Maria as she chants
in the languages of light, calling her Beloved home.
"Deeply moving. Ani Williams' Medicine Song chants honor and
celebrate the Feminine in diverse Wisdom traditions…
awakens us to the "Sacred Union" within."
Margaret Starbird author of "The Woman with the Alabaster Jar" and
"The Goddess in the Gospels."
"It's pure balm for the soul…Rukha d'Koodsha"
Lars Muhl, musician, teacher, Denmark
"As I look to the sky, I hear Sophia's song, my favorite on this album.
You touch the majesty and joy of creation."
Ananda Music, Poland
"Ani has created a wonderful kind of magic in bringing forth
these powerful chants from the ancient Sophia lineage."
Brooke Medicine Eagle, author of "The Last Ghost Dance"
and "Buffalo Woman Comes Singing".
"The people shall rejoice and dance within, and all the kingdoms shall rise together
as if from the mist of the dreams of humanity, and forge a union with the divine…
…and man shall join woman in the final dance of alchemy."
— "I Remember Union" — The Story of Maria Magdalena by Flo Aeveia Magdalena