Short clips from each track:
01 Moon Shadow Waters
02 Fall - Snow on Mountain
03 Sky Dance
04 Sanctuary
05 Temple at Philae
06 Sky Circles
07 The Sea
Sky Dance was first recorded in 1986 and produced as a cassette.It was finally re-mastered February 2012 for its first release on CD. We are happy to announce the release of Ani's earlier recordings, which are recommended for relaxation and meditation.
I am the seashell on the sand
As waves ebb and flow over,
Rippling, bathing every crevasse
Of my body.
I am the dolphin
Stretching, gliding, feeling
Every breath and pulse of your waters—
Alive with your fluidity,
Sounding the song of the Earth.
I am moonlight dancing
On shiny liquid petals—
Light dancing for the stars.
I am a coral forest weaving,
Bowing to your sensuous breath—
Mysterious rhythms of unpredictability.
I am the white hawk circling, calling
Sound of the Spirit Sky
Song of the wild-winged
Answer, hear my cry.
I am the silence of clouds
As they move through space
Melting…merging…free.
I am an autumn leaf gliding
Floating spiral colors land
On one reflection
Cool clear
I am.
–Ani Williams
Oak Creek Canyon, October 1986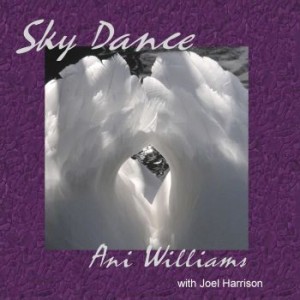 "Sky Dance is a paean to the earth, sky and oceans.
Williams' swaying harp rhythms and dancing arpeggios
offer a serene, spacious music, radiant in its love
of all things natural."
—Pulse Magazine
"Williams makes me fly with her celestial harp and
ambient sounds. Liquid skies and transparent
nature appear and dissolve between ocean and flutes.
There is an opening in the sky and I can see forever."
—L.A. Resources
"Expressive harp music with rich instrumentals–delightfully
relaxing music to sooth away the cares of the world."
—Dawn Awakening Music, Devon, England
—
Ani Williams—Celtic harps, recorder, vocals, Tibetan bowls.
Joel Harrison—Synthesizers, acoustic guitar, gongs and
vocals on Sanctuary.
All songs by Ani Williams except Fall-Snow on Mountain and
Sky Circles by Joel Harrison.
Original recording ©1986 Ani Williams and Marge McClenon
by Phil Gall, Flagstaff, Arizona.
Re-mastered by Star Tracks Recording,
Sedona, Arizona, March 2012.