Passionate and soaring melodies sung in Spanish, French, Latin, Hebrew, Arabic, English and Catalan — Inspired by a land of Black Madonnas, medieval Maries bearing Grail Cups of Fire, and pathways of the Camino de Compostela. For many years Ani has been exploring the region of the Pyrenees, discovering ancient mysteries and deeply mystical sites: Greek Asklepian healing temples, Roman sites of the Egyptian Great Mother Isis, and early Christian and Visigothic Grail Chapels dedicated to the Sacred Feminine.
A great network of megalithic dolmens and menhirs (standing stones) reaches from the Mediterranean to the peaks of the Pyrenees and beyond. Standing for more than 5000 years, these stone monuments mirror the stars and earth's elements across this powerful landscape—If we listen, the songs of these ancient ones can still be heard.
Ani Williams is accompanied by stellar musicians who bring to life the traditions of these sacred places:
Ani Williams
Harp and vocals

Fitzhugh Jenkins
Spanish guitar,
Fender bass

Claudia Tulip
Flute, clay ocarinas

David Vincent Mills
Accordion

Allen Ames
Violin, violira

Three Trees
Percussion, vocals,
Halo hand-pan
Reviews:
"I love your new CD Calling Pyrene!  It is filled with fiery feminine gypsy magic and medicine!" Seren Bertrand, author and recording artist
"Your new music has taken a quantum leap!" Henry Lincoln, author of Holy Blood-Holy Grail and BBC filmmaker.
"I love it. The music reminds me of my favorite albums from the French Café series. I'm transported to Europe as I listen to you." J.S.
"Awesome cd! Great job. Excellent choices in mix." F.J. Los Angeles studios recording artist
.
The mythic roots that inspired this music of the Pyrenees:
Pyrene is the breath of fire—mother of serpent wisdom and Celtic princess of the Pyrenees. In Greek mythology, Pyrene was the beloved of Hercules. It is said his voice can still be heard calling her name, echoing through the mountain valleys.
Pyrene's predecessor Pyrrha was a Greek queen, the 'Red One' Goddess of Fire. Her husband, King Decalion, was warned by his father, Prometheus, of a deluge soon to sweep across the Mediterranean. When the great floods came, Pyrrha and Decalion boarded an ark—they sailed for nine days and in mountains to the west they re-established a new civilization on earth.
The ancient tradition of lighting sacred fire on Pyrenees mountain peaks continues … On St. John's Eve, Summer Solstice, villagers with lighted torches process down the mountain—they honor the fullness of life brought with summer's sun in this annual Ritual of Fire.
Short clips from each track:
01 Fire on the Mountain
02 Nuestra Doña de Catalonia
03 Regina de Montserrat
04 Château des Rêves
05 Las Breiches
06 Terre Rouge
07 Ode to Ramon Llull
08 Vuelo de Amores
09 Field of Stars
10 Calling Pyrene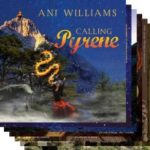 CREDITS: Ani Williams, except Field of Stars by Three Trees- www.threetreessedona.com;
Terre Rouge Medieval French folksong, chorus by Ani Williams;
Nuestra Dona de Catalonia lyrics inspired by Patrice Chaplin's books – www.patricechaplin.uk
Château des Rêves lyrics by Henry Lincoln – www.henrylincoln.co.uk
Cover art: Rupert Soskin – www.rupertsoskin.com
Cover design: Jemma Brown – www.workingart.biz
Recording, mixing: Kenny Star – www.kennystar.com
Music ©2017 Ani Williams.